Lately I've felt like quitting homeschooling.
I've been around long enough to know that anyone who has homeschooled for any period of time has gone through this, and I'm no exception. However, what I've felt lately is unlike anything I've ever felt before. There's no emotional rollercoaster that ends with me making a couple of small tweaks to what we're doing, then POOF! things reset and we're ready to roll. There's no excitement for what's to come next; only dread because my head simply isn't in the game. I've been so overwhelmed with feelings of doubt, fear, sadness, confusion and guilt that I've almost given up hope that we can continue on this journey. I feel as if I've been punched in the gut, and I can't seem to catch my breath. No change of schedule, routine, curricula, or homeschool room rearranging will help. Believe me, I've tried.
I'm burned out, and I know it.
I know how I got here. I can see it in hindsight. While I don't think I've done everything wrong, I can definitely see where I didn't remain true to my "why" for homeschooling, and going astray has led me to where I am now. Unconsciously bringing many aspects of my compulsory schooling experience has ultimately negatively affected  our homeschool. How do I know? It's in the push back from my children. Their lack of interest in the lessons I chose. The dullness in their eyes when it came to "school time."  And so much more.
I get it now. I understand why. That's my fault. I accept all the blame. My intentions were good, but my choices weren't. That can be a tough pill to swallow. Being a homeschooling mom goes hand-in-hand with humility. Being with your children this much will do that, whether or not you want it to. Refinement by fire is part of living this lifestyle. It's something I didn't know before I began, but, oh mama, do I know it now!
Am I alone? So many days, I've felt this way, even when good-intentioned mamas, and even my wonderful husband, would tell me that I'm not alone, and that I'm doing a good job with the kids. But, their kind words just didn't validate my feelings. I didn't feel heard or understood, not that I blame them. It's just that if you've ever felt this way, you know the light in the darkness will only come from someone else who has been there and can articulate what it will take to pull you out.
Today, I heard those words, and I finally felt the weight lift off of my shoulders. They came from none other than the incomparable, Julie Bogart. This woman, y'all! This episode of her podcast brought me to tears and gave me hope again. Here's a taste to give you an idea of what I mean:
"What about managing your time and keep your children's' interest, while also taking homeschooling to the next level?
In homeschool, we want to figure out how to make learning come alive for our children – and how we do that is not the same for every child.
This is why many of us first shied away from the cookie cutter approach to public school, but still many of us have the pernicious ghost of our own public school past, influenced by expectations set by the curriculum, whispering not-so-sweet nothings into our ears about what school is and where our children should be.
The structure of public school doesn't take individuals into account, and you don't have to feel pressured by your memories, other parents, or anything else to import that structure (or the institutional expectations that come with it) into your home.
Instead, you get to use the properties of home to transform your children's learning experience!"
This was basically me while listening: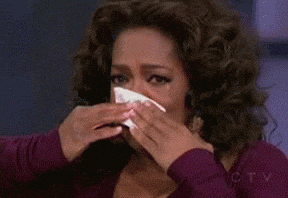 Friends, if anything in this post resonates with you, I implore you to listen to the podcast episode. There are so many "ah-ha" moments offered; the wisdom she shares and practical examples of how to reset your homeschool, and more importantly your mindset, overflow. Listen to it before you quit, friend. I did, and I'm still here. I hope it touches your soul like it did mine. I know nothing will change overnight, but I also know that with hope, inspiration, motivation, and validation, anything is possible.
Want to keep us with us? Subscribe to our blog, and follow us on Instagram, Facebook, and Youtube!